Within easy distance of Lyme Regis, Bridport, Dorchester, Weymouth and Sherborne,
Gray's Farmhouse is central to many wonderful places:

Abbotsbury. Bockhampton. Beaminster. Bridport .Burton Bradstock. Cerne Abbas .Charmouth .Dorchester .Kingcombe. Lambert's Castle. Loscombe. Lyme Regis. Mapperton. Minterne Magna. Netherbury. Portland .Sherborne. West Bay. Weymouth

For more detail and Tourist Information, see "Things to Do"
TO THE SOUTH-EAST
Portland:
remarkable peninsular with renowned quarries
Weymouth:
famous sea-side resort in magnificent bay
Dorchester & Maiden Castle:
Hardy Country with millennia of history
Bockhampton:
Thomas Hardy's birthplace
Chesil Beach:
unique eleven mile shingle strand
Abbotsbury:
Swannery & Subtropical Gardens
Burton Bradstock:
National Trust beach and Coastal Path
The Bride Valley:
idyllic valley with peaceful villages and hamlets
TO THE SOUTH/ SOUTHWEST
Eggardon Hill-fort:
iron age settlement with glorious view
Loders, Uploders, Powerstock,Nettlecombe, West Milton, Askerswell:
tiny golden villages, nestling below Eggardon
Bridport & West Bay:
bustling, slightly old-fashioned town and harbour
Golden Cap:
highest point on the South Coast with exhilirating views from Portland to South Devon
Charmouth and Lyme Regis:
famous old coastal resorts rich in fossils: prominent in Jane Austin's "Persuasion" and
John Fowles' "The French Lieutenant's Woman"
TO THE NORTH-EAST
Kingcombe Centre:
Conservation Educational Centre in idyllic setting next to Reserve
Sydling St. Nicholas :
charming village
Cerne Abbas:
Cerne Giant, teashops, pretty cottages
Minterne Magna:
magnificent estate and woodland garden overlooking lovely valley
Sherborne:
cultural capital of Dorset. Famous Abbey
TO THE NORTH-WEST
Hooke Woods:
extensive bluebell & beech woods
Mapperton Manor:
Italianate water gardens in steep valley overlooked by Elizabethan manor house voted "The Nation's Finest Manor House" by 'Country Life'.
Beaminster:
"Emminster" in "Tess of the Durbervilles"; exceptionally pretty town in lovely setting
Loscombe:
hamlet by stream in network of tiny, intricately-contoured secret valleys
Netherbury and Stoke Abbott:
charming, honey- coloured villages hidden away in folds of the hills
Lewesdon, Pilsdon, & Lambert's Castle:
hill forts with stunning views, each highly individual.
In addition, the following sites might interest you:
(My apologies if any of the links are not active. I do not have time to check them as often as I could wish!)
Abbotsbury Bockhampton Beaminster Bridport & West Bay Burton Bradstock
CerneAbbas Charmouth Dorchester Kingcombe
Lyme Regis Mapperton Portland Sherborne Weymouth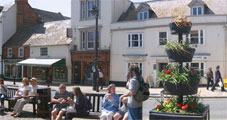 Click to see 360 degree photo of Bridport.
The site also features other local panoramas
Bed & Breakfast in West Dorset